To access the Uptime section for a site, from the A-Z+ Hub "Sites" page, click on the site you would like to manage and click on the Uptime > Dashboard option in the site manager menu.
This section informs you if your website is currently online or offline and the duration of the last downtime.
The graph displays: Uptime Downtime Duration of Last Downtime.
You can refresh the Uptime data anytime by clicking the Re-Check button.
The toggles at the top allow you to view statistics for the last 24 hours, 7 days, or 30 days.
Uptime continuously monitors your website every 2 minutes from our server located in Virginia, USA and tracks the TTFB (Time to First Byte) in the Response Time graph. TTFB measures the time from when a client sends an HTTP request to when it receives the first byte of data from the web server. The response time graph shows the response time for the selected period; for instance, if you display stats for the last 24 hours, the chart will display the response time per hour on the x-axis.
It's important to note that the Uptime pings are not included in the tracking data in your Hub and do not count as visits in the Analytics tracking section. Some tracking platforms may measure these pings, but they would only be recorded as a daily visit as the IP is constant.
The graph also displays the maximum, minimum, and average response times over the selected period.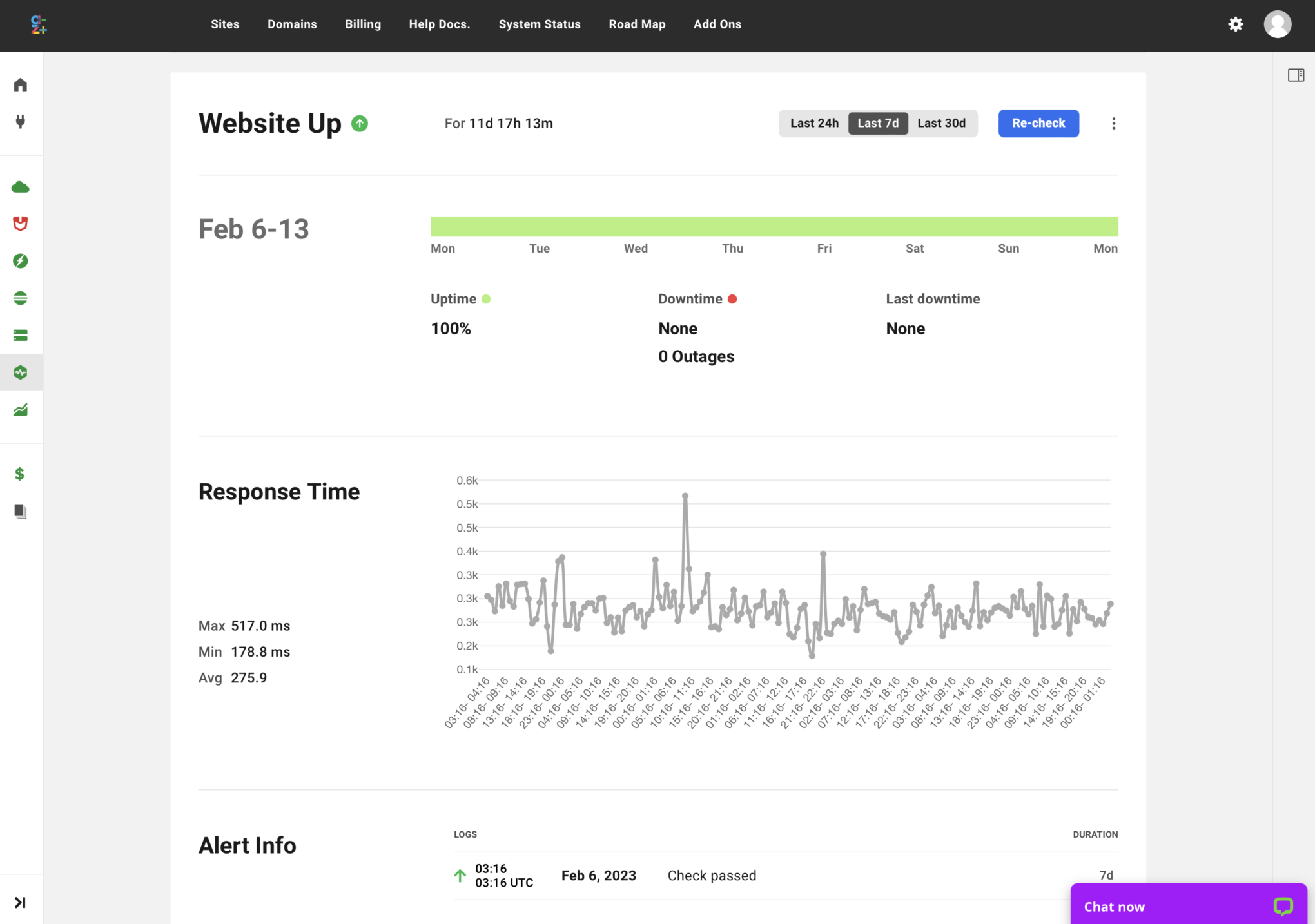 If your domain is routed through Cloudflare with a firewall enabled, add the addresses to the allowlist in the Cloudflare Firewall. If both Cloudflare and the server have firewalls, add the WPMU DEV IP addresses to both firewalls and make sure that the Cloudflare IP addresses are also allowed to be listed on the server firewall to prevent any blockages. If Bot Fight Mode is enabled in Cloudflare, add the WPMU DEV IP addresses to the IP Access Rules section under Security > WAF > Tools.
Log In to the A-Z+ Hub to view your uptime status.